David Cameron
and Ed Milliband
will face off alongside other party leaders in a single televised
general election
debate, it has been announced.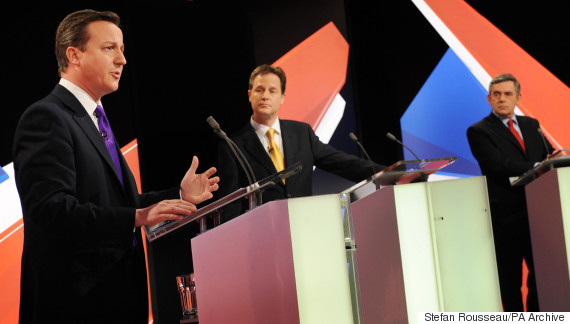 Cameron, Nick Clegg and former prime minister Gordon Brown in the 2010 TV debates
On April 16, the Labour leader is to appear in a BBC debate with counterparts from Ukip, the SNP, the Greens and Plaid Cymru.
The final encounter will be a special Question Time on BBC1 on April 30 featuring the Tory leader, Mr Miliband and Lib Dem Nick Clegg answering questions separately from a studio audience.
Labour immediately branded Mr Cameron a "coward" for avoiding a head-to-head debate with Mr Miliband.
"The cowardice of David Cameron is still preventing the head-to-head debate on the 30th. Cameron is now in the ludicrous position of saying he will attend the same programme and take the same questions from the same audience as Ed Miliband, but will not debate him face to face," a source said.
But a Tory source insisted they had secured an even better deal than they were hoping for.
"If anything this is an improvement on the deal we were offered last week. The PM has always believed too many debates would suck the life out of the campaign," they said.
"In all these formats, we are confident the choice between competence and chaos will be clear."
The final line-up follows years of wrangling between parties and broadcasters over whether and how to repeat the debates from the 2010 election campaign - which saw Gordon Brown, David Cameron and Nick Clegg square up three times.
Mr Cameron rejected previous proposals on the basis they did not include the Greens, and insisted the sessions should not take place during the short election campaign that starts on March 30.
Source: Huffington Post.