Lagos State Governor, Akinwunmi Ambode on Saturday said the 2016 Lagos City Marathon has come to stay, just as he assured that the state government will work towards making the competition the best of its kind in the world.
THE ENTHUSIASIM AND EXPERIENCE OF THE LAGOS CITY'S MARATHON PALAVER!
It's an experience I wish to share with friends. The advert of the Lagos marathon colonised our TV stations for about a month and it never occurred to me that I was going to participate. Usually we've been advised to accommodate exercise and physical fitness into our living activities and I commenced jogging from Maryland to Ikeja Police college every Saturday morning since 2014 when I'm in town.
My fitness team advised we join the 42KM marathon train so I registered. Little did I know that I'd just created trouble for myself.
"Eepa...Haile Gebresellasie is a wicked man". He made MARATHON appear so easy, my thoughts went wild..
Woke up at 5am. Left for Teslim Balogun Stadium at 5.30am. The entire Ikorodu was cordonned off as well as most major roads in Lagos. We commenced the race at 7am as I appear so fit ( hmmn). From Stadium- Ojuelegba- Fadeyi. It was a lovely experience, full of excitement, large roar of "keep moving", let's go. " Common", an atmosphere full of vigour, energy, mental alertness and will power filled everywhere. Passersby, by standers and well wishers chanting songs of support. A reminiscent of my endurance walk and camp activities during NYSC years back.
At Onipanu, we had the first casualty, a man passed out and my legs started shaking... Obanikoro- Anthony, turn towards Gbagada,. each time we approached the refreshment stands, nothing was left and we just kept moving. At the foot of the 3rd mainland bridge I couldn't feel my legs anymore, I stopped jogging and started to trek. I could see mammoth heads in front and behind. Mobile ambulances were picking those who knocked out and BRT buses also picking tired legs. ( I never thought i'll work thru the entire 3rd mainland bridge in my life) guess what? I trekked it !, immediately after the ebute metta interception, I started seeing about 10 different 3rd mainland bridges..!!. a fellow marathoner put some glucose in my mouth and I could then see its just one 3rd mainland bridge.
At the foot of the bridge so many runners sat on the floor, waiting for the next available BRT. I was almost joining them until a lady overtook me and I gasped.. A lady! No I must continue...We went through Simpson Bridge- Osbourne- Alfred rewane- Falomo. At Falomo I had swollen hands and feet. My toes were almost exploding out of my foot wear, finally I couldn't feel any part of my body till I started ascending the ikoyi- Lekki bridge which was 30KM. I couldn't hear anything again and suddenly I was looking at the clouds. Moments later I heard The word " O ti wa ok" inside a BRT bus!.I couldn't lift any part of my body. The bus took us to the finishing line at 42.1KM inside Atlantic city VI.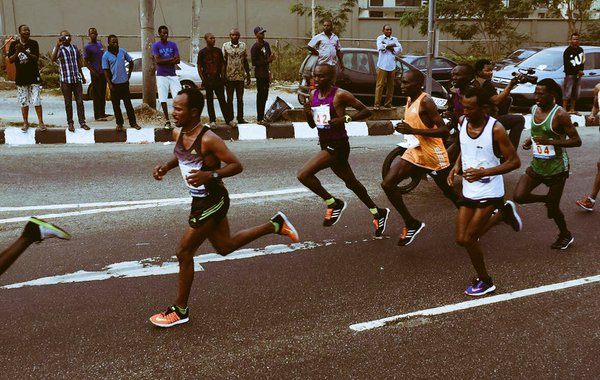 I received my medal, certificate and light refreshments. At the finishing point, we were informed the winner a Kenyan, emerged at 9.30am while we got there at 12.30pm.
BRT buses conveyed us to our various destinations and I walked home like a 99 years old.
It was an eventful and fulfilling experience for me. I just woke up now for some 'aboniki' treatment.
Thanks. That's my story.... "Yeeeeeeeeeee ese mi".
Read news: Lagos City Marathon to become the best in the world, say Governor, IAAF
The Governor who spoke at the finish point of the Marathon at the Eko Atlantic City, expressed delight in the massive turn out of international and local athletes for the Marathon, saying that Lagos was proud to join major cities in the world to promote the Marathon.
"Lagos State is glad to host athletes from different parts of the world today as we flag off the Lagos City Marathon. The last time this event held was 30 years ago. I stand here to tell you today that this event is here to stay. We are committed to sustaining this event and ensuring consistent improvement to make it one of the best marathons in the world," he said.
Governor Ambode said his administration remains determined to make the state the hub of sports in Africa adding that it will embrace other international sports, while Lagos will bid to host Continental and International sports tournaments going forward.
Speaking to journalists shortly after presenting awards to the winners, Governor Ambode said government with the Marathon, combined entertainment, sports and hospitality to create jobs for the people and allow the youths to engage themselves positively.
"We are proving it, this is just the beginning. We would double the scale of it next year and then we would make it more interesting than ever before. This is a world class event and Lagos is back on the map of the world as a choice destination for tourist and investment, as a sports centre and as an entertainment hub and that is what we are committed to doing", he said.
Also speaking at the event, Vice President of the International Association of Athletics Federation (IAAF), Col. Hamad Malboum thanked the organisers for putting up a sterling show and assured that the IAAF will partner with the state to make the Marathon the most remarkable athletics event in Africa and in the world.
In the same vein, Minister of Sports, Hon. Solomon Dalung, expressed appreciation to Governor Ambode, saying that the Governor by his actions is trying to repossess the lost glory of the state.
He recalled that during the yuletide period, the Governor spent a whole night at a fiesta held in Lagos, which according to him has launched the state to take the lead in the entertainment industry.
"I believe this is not an accident, but rather a part of the concerted efforts of the Lagos state government to play a major role in leading sports. The turnout and registration for this event attests to the fact that Nigerians love sports and that all Nigerians need is an enabling environment to express their potentials." The minister said.
On his part, the Managing Director of Access Bank, Herbert Wigwe, whose organisation is the major sponsor of the Lagos City Marathon, said they were proud of the opportunity to collaborate with the state government to empower the people with a sense of history.
He said his organisation will continue to collaborate with the state government to make the tournament bigger and better, adding that next year's edition will take place on the 11th of February 2017.
Some of the athletes also commended the organisers of the Marathon for making adequate logistics to ensure a hitch free and successful tournament.
L-R: Lagos State Governor, Mr. Akinwunmi Ambode (left); Group Managing Director, Access Bank, Mr. Herbert Wigwe (right), jointly presenting a cheque of $50, 000 to the 1st Prize Winner of the Lagos City Marathon, Abraham Kiptom from Kenya, while the 2nd Prize Winner, Hosea Kipkemboi from Kenya and the 3rd Prize Winner, Debebe Kolosa from Ethiopia, watch, during the Lagos City Marathon at the Eko Atlantic City, Lagos, on Saturday,
Nigeria, The New Marathon Hub? By Stephanie Findlay - Yahoo Sports writes:
Lagos (AFP) - The infamously congested, concrete jungle of Lagos is far from a runners' paradise, but with the launch of a new annual marathon on Saturday organisers hope to show that the city's bad reputation is undeserved.
Over 20,000 participants turned out before dawn on a typically muggy morning in Lagos to compete in the biggest marathon the city has seen in thirty years.
The streets of sub-Saharan Africa's biggest metropolis, usually clogged with cars, battered mini busses and whizzing okadas -- motorbike taxis -- were cleared for the event and patrolled by lines of armed police and soldiers.
Runners, some barefoot and others decked out head to toe in candy-coloured athletic gear, braved the haze, taking advantage of the rare opportunity to run on a smooth road with air free of exhaust fumes.
"It's kind of hectic to stay in Lagos, but people make it work," Lolade McJohnson, a 33-year-old lawyer cheering on runners, said to AFP.
"After this, we'll have more people interested in running, maybe now we'll even have a Nigerian champion."
Unlike in Kenya and Ethiopia, two countries whose runners have dominated marathons for years, or in marathon-crazed South Africa, Nigeria has yet to develop a long distance running culture.
For some, it's a casualty of years of chronic mismanagement of lucrative oil funds that has left Africa's biggest economy without basic infrastructure, let along quality sports programs.
"In the 70's and 80's there was a strong culture of running, all that died," Lagos City Marathon spokesman Olukayode Thomas said to AFP.
"But that is a culture we're trying to revive."
With Nigeria, Africa's biggest oil producer, taking a massive hit from the low price of crude and battling an almost seven-year Boko Haram Islamic insurgency, Thomas said events like the marathon show it's not only doom and gloom for the country.
"It's not just about Boko Haram, there are a lot of positives in Nigeria."
- Pressing heat -
Thousands of people turned out to encourage the runners along the 42 kilometre stretch of road, with gardeners hosing down panting contestants and a mini-marching band composed of a trumpeter and two drummers adding an impromptu soundtrack to the event.
Kenyan Abraham Kipton won the marathon and the $50,000 prize with a time of 2:16.21, crossing the finish line with his arms raised in victory before collapsing on the ground just after the finish line.
Though happy for his win, he had to acknowledge Lagos's oppressive heat.
"It is my first time running in very high humidity but I thank God for this day," Kipton said to AFP.
"Nigeria is very hot but it is very good," agreed the women's winner Ethiopian Halima Hussein Kayo.
Adeyemi Kazeem, one of the first Nigerian finishers, said that despite not placing in the top three he was proud of his performance.
"I feel good, I can inspire more people to run in Nigeria," he said.
Still in its infancy, the race suffered a few hitches.
One runner said that by the time he reached the refreshment station there was no bottles of water left and was forced to pull out of the race at the 30 kilometre mark.
But with the next Lagos marathon already pencilled in for February next year, Thomas insists these are just hiccups in the grand scheme of things.
"We were facing many fears before the race -- security, traffic -- but so far there's not been any issues," Thomas said, "it can only get better."
One of the athletes, Lekan Taiwo, said, "I am really impressed with the Lagos State Government. From the take off point, it was obvious that a lot has been put into the planning of this event. I saw ambulances, traffic control officers at strategic locations and even street sweepers were on ground to clear the waste generated from the participants. We had people coming out to cheer us up. This is commendable".
In the male category, Kenyan Abraham Kipton was first to breast the tape at 2 hours 16minutes 19 seconds to win the grand prize of $50,000, while his compatriot, Kipkemboi Hosea came second posting a time of 2 hours 16minutes 34 seconds and cart home the $40,000 prize.
Debebe Tolosa of Ethiopia finished third with a time of 2 hours 16 minutes 40 seconds and went home with $30,000.
In the female category, Halima Huseen Kayo of Ethiopia finished first two hours 38 minutes 32 seconds, while Alice Timbilil from Kenya came second in a time of two hours 38 minutes 49 seconds and Aberash Feyase from Ethiopia finished third in a time of two hours 39 minutes nine seconds.


Lashley Oladigbolu, Kayode Ogundele, Stephanie Findlay and AFP contributed to this story.