Anthony Joshua vs Charles Martin :
How It Happened!
As Joshua crowned world champion with second round KO
Anthony Oluwafemi Olaseni Joshua made light work of Charles Martin to claim the IBF world heavyweight title, sending the defending champion to the canvas twice in round two before the referee brought a swift end to the fight.
For FULL FIGHT Click to watch on YouTube link here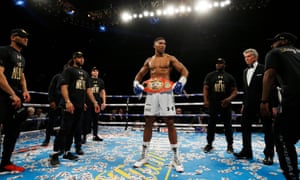 The new IBF heavyweight champion of the world, Anthony Joshua. Photograph: Andrew Couldridge/Reuters
Anthony Joshua is the IBF heavyweight champion of the world!
HOW IT HAPPENED:
Joshua says he is a 'quarter' of the way there
J
oshua's post match interview is a gem. He says, with one belt out of four, he is only a "quarter of the way there" and that he has to go off and do some pad work in the dressing room now.