As d

emonstrators dare military takeover in Turkey
Death toll 'rises to 90'
The number of dead as a result of the coup attempt has risen to 90, the state-run Anadolu Agency reports, with 1,154 wounded.
It had earlier been reported that 60 people had died during overnight clashes, including many civilians.
Since then Turkey's police chief has said at least 16 "coup plotters" have been killed in clashes at the country's military police command.
The Anadolu Agency also reports that some 200 unarmed soldiers at the Turkish military headquarters have "surrendered" to police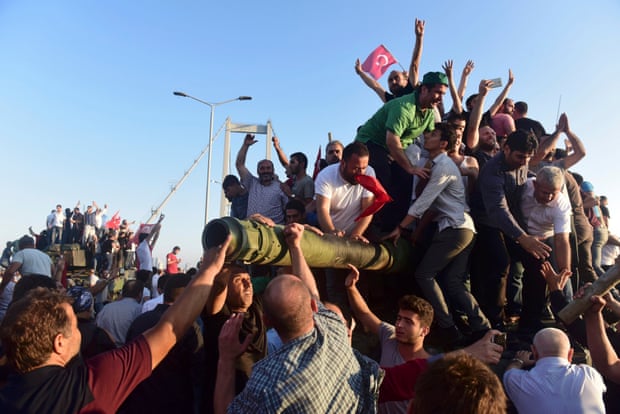 The picture from
Turkey
is clearer on Saturday morning, with president
Recep Tayyip Erdoğan
insisting he remains in charge after a night in which a military faction attempted to overthrow the government.
But pockets of violence continue, with some of those behind the coup claiming to be fighting on.
'More than 1,500' military personnel detained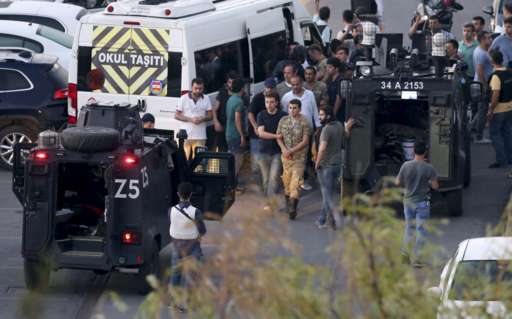 A total of 1,563 military personnel have been detained across Turkey, the AFP news agency now reports, citing a government official. The BBC cannot confirm this number.
It had earlier been reported that 754 members of the armed forces had been arrested for involvement in the coup, with 29 colonels and five generals removed from their posts.
Reports also cited the police chief as saying that 16 "coup plotters" had been killed in clashes at the military police command, with 250 people detained there.
Recep Tayyip Erdogan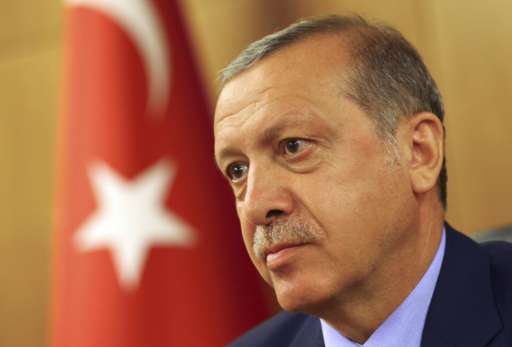 Mr Erdogan, 61, came to power in 2002, a year after the formation of the AK Party. He spent 11 years as Turkey's prime minister before becoming the country's first directly-elected president in August 2014.
Mr Erdogan and his party have strong support from Turkey's conservative Muslim base but he has faced criticism from outside the country over his silencing of critics, often by force.
Here is what we know:
The attempted coup
An attempted military coup has apparently been defeated in Turkey, in a bid to oust the president,

Recep Tayyip Erdoğan

, accusing him of undermining the country's secular traditions.
Erdoğan, who returned to Istanbul in the early hours of the morning from his holiday in the resort of Marmaris, said the attempted coup was "treason" undertaken by "a minority within our armed forces".
The president urged people to take to the streets in defence of the government, prompting chaotic scenes as thousands protested alongside tanks.
Prime minister

Binali Yildirim

said coup fighters using military helicopters would be shot down.
There were mass surrenders in Istanbul, with around 50 soldiers on Bosphorus Bridge in Istanbul abandoning their tanks with their hands raised.
The head of the armed forces,

General Hulusi Akar

, who was reportedly taken hostage, has been freed.
But a pro-coup military faction insisted it would continue its fight and there were reports of ongoing clashes in Ankara, where a building in the parliamentary complex was bombed overnight.
Erdogan 'has no one to blame but himself'
Michael Rubin, a Turkey researcher, analyses the reasons for the attempted coup in an article for Foreign Policy.
He writes:
"Was a coup inevitable? No. But those plotting it presumably believed they were saving Turkey from an increasingly out-of-touch and ideological leadership. Erdogan promised to rule on behalf of all Turks, but increasingly he does not.
"He promised to repair the economy, but corruption is rife, the currency shaky, and a recession could be on the horizon. He promised peace, but his combative policies isolated Turkey in the Middle East and estranged it from the West.
"He promised security, but Turks fear recent bombings are just the tip of the iceberg. At the same time, the coup plotters may believe that Erdoğan's continual consolidation of power made this their last chance."
Turkish media reported late Friday that military helicopters had attacked multiple targets in Turkey's capital Ankara, including the city's police headquarters and the offices of a satellite broadcaster. Other reports said soldiers had shot at people trying to cross the Bosporus bridge in Istanbul in protest of the coup attempt, and some injuries were reported.
The prime minister of Turkey said earlier that a military faction engaged in what appeared to be a coup attempt. Military jets were flying over Ankara, and reports indicated vehicles had blocked two major bridges in Istanbul. Gunfire was reported outside the headquarters of the Turkish military.

Soldiers blocked access to Ataturk Airport in Istanbul. A number of tanks were seen there. A news agency reports that soldiers entered the control tower there and stopped all flights.
Prime Minister Binali Yildirim told a Turkish broadcaster that Turkey would not allow any "initiative that would interrupt democracy". Yildirim went on to say "There was an illegal act by a group within the military that was acting out of the chain of military command. Our people should know that we will not allow any activity that would harm democracy."
But in a statement published by a Turkish news agency Friday afternoon, the military claimed that armed forces have "fully seized control" of running the country, The statement also said "… all international agreements and commitments will remain. We pledge that good relations with all world countries will continue."
Video from Istanbul showed military vehicles on bridges there. Media reports indicated that ambulances were positioned outside the headquarters of the Turkish military.
U.S Secretary of State John Kerry said Friday afternoon that he hopes for stability, peace and continuity in Turkey.
The Associated Press contributed content to this report.