Breaking: Confusion spreads as North Korea's biggest Nuclear Test rocks US, China. Earthquake, markets slip across Asia
US and China have recorded an 5.3 magnitude earthquake near North Korea's nuclear test site. Japan confirms explosion was nuclear test and lodges protest. Meanwhile, an official news agency says after latest missile tests that leader wants nation to 'continue making miraculous achievements in bolstering the nuclear force'
Ads by AdClickMedia
The North Korean leader,
Kim Jong-un,
has called on his military to continue nuclear weapons development after issuing orders for the latest test-firing of ballistic missiles.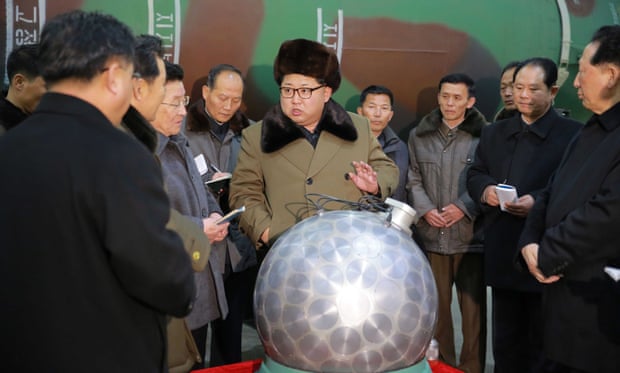 Asia Pacific markets slip
Japan's government spokesman, Yoshihide Suga, has told reporters that the government had determined that Friday's earthquake was caused by a North Korean nuclear test. Suga did not explain how Japanese officials had arrived at that conclusion.
The Japanese have also lodged a protest with the North Koreans, the Kyodo news agency said.
By 04:00hrs in the early of Friday, still no word from North Korea though. North Korean state TV did not, as some had speculated, confirm the test had taken place during its noon news broadcast, according to Martyn Williams who runs the North Korea Tech blog. Williams said the next broadcast was not due until 5pm local time. Confirmation could come from other sources, however, including the country's state news agency KCNA.
The South Korean president has spoken to US president Barack Obama about the North Korea nuclear test, according to the local Yonhap news agency.
Obama and Park discussed the situation while Obama was flying back to the United States from the Asean summit in Laos.
Park condemns apparent N.K. nuke test
South Korean President Park Geun-hye on Friday condemned North Korea's apparent nuclear test, saying that its provocation would only invite stronger international sanctions, deeper isolation …
source: english.yonhapnews.co.kr
Describing the performance of the rockets as "perfect", KCNA said Kim expressed "great satisfaction over the successful successive firing drill of ballistic rockets".
South Korea's defence ministry said they may have been Rodong missiles with a range of 1,000km (620 miles), and that they were fired without navigational warning to Japan.
Ads by AdClickMedia
North Korea's nuclear programme, which has brought sanctions from the UN, began in the 1980s and the first nuclear bomb test was in 2006.