With only one ticket to the 2018 FIFA World Cup Russia up for grabs in each of the five groups, competition in the African qualifying competition could not be tougher. With the penultimate round of fixtures looming, Tunisia, Nigeria and Egypt could all secure their passage to the finals with a game to spare. But only the Super Eagles have qualification entirely in their own hands, with the Tunisians and Egyptians hoping for other results in their respective groups to go their way.
....Super Eagles of Nigeria have become the first African team to qualify for the 2018 FIFA World Cup in Russia after beating Zambia.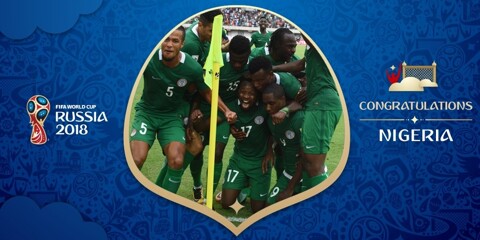 Nigeria have never lost a home World Cup qualifier during the 21st century.
Alex Iwobi repeated his feat of being the thorn in the Zambians' side, once again finding himself on the scoresheet against the Chipolopolo. Having scored in the first Group B game between the sides, he came off the bench in the second half to end Zambian hopes of creating a final day climax on 6 November, instead seeing the Super Eagles book a spot at their sixth finals.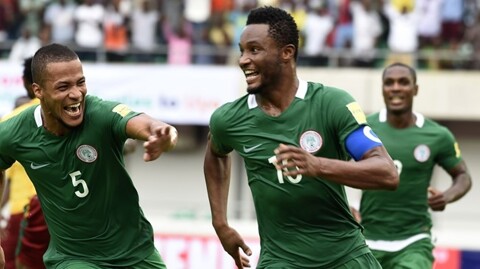 Seen by many as the toughest group of the continent's five qualifying tables, Nigeria have been dominant, remaining unbeaten throughout and only dropping points thanks to a Cameroonian penalty on the road in Yaounde. The 4-0 win a few days earlier against the reigning African champions was a particular highlight.
With a rich youthful streak through the side, seeing the likes of Iwobi, Kelechi Iheanacho and Moses Simon score crucial goals throughout qualifying, there will be something of a fresh feel to the side who have only missed one tournament – Germany 2006 – since their debut in 1994.
Led by the seasoned John Obi Mikel, who made his belated World Cup debut at Brazil 2014, they will hoping to better their Round of 16 exit from three years ago – the furthest stage they have reached, having also done so in their first two appearances......
.
Just In: *Nigeria just made it first African country to qualify for 2018 world cup*
Goal courtesy of Alex Iwobi upon introduction @2nd half of the game.
Nigeria qualify for world cup with one game to spear!
Nigeria 1 v 0 Zambia FT
#WorldCup line-up so far:
🇷🇺Russia
🇧🇷Brazil
🇮🇷Iran
🇯🇵Japan
🇲🇽Mexico
🇧🇪Belgium
🇰🇷Korea Rep.
🇸🇦S. Arabia
🇩🇪Germany
🦁England
🇪🇸Spain
🇳🇬Nigeria
Read full *#Analysis* :
Nigeria made it style with a win from Uyo.
African places: 5. Already qualified: 12 including Nigeria latest after England and Spain
Follow the details here http://www.nujeurope.org/2017/10/latest-how-5-african-countries-stand-to.html
Nigeria 1 v 0 Zambia FT
Read full *#Analysis* :
How Nigeria made it in style with a win from Uyo.
Nigeria are rocking on a sixth World Cup appearance, while Egypt - led by Liverpool's Mohamed Salah - are on course for their first since 1990, but Africa Cup of Nations champions Cameroon are out of the running.
Follow the details here http://www.nujeurope.org
REMINDER: Only the top team from each group will qualify for Russia 2018
Group A
Tunisia are within touching distance of qualification, and need four points from their final two matches to book their first World Cup appearance in 12 years. They will be hoping to take another step towards qualification with an away win at already-eliminated Guinea. Three points may even end up being enough for the Tunisians, should Congo DR fail to win against Libya in Tunisia, where they latter play their 'home' games. And although the Libyans have nothing to play for, were the Congolese to suffer defeat in Monastir, the Carthage Eagles would only need to return from Guinea with a point in order to secure qualification.
Group B
The 400,000 inhabitants of Uyo are surely taking to the streets in celebration as Nigeria manage to secure qualification with a win over Zambia. Elsewhere in the group, Cameroon and Algeria have seen their hopes of appearing at a third consecutive World Cup dashed. Both teams will be looking to bounce back from the disappointment with a victory in their dead rubber match in Yaounde.
Group C
Côte d'Ivoire missed the chance to ensure a stress-free end to the campaign when they succumbed to defeat at home to struggling Gabon in their last match. That result not only made their upcoming fixture in Mali a must-win game for the Elephants, but it allowed the Panthers to hang on to their qualification hopes ahead of their away match in Morocco. With the Ivorians, Moroccans and Gabonese separated by just two points, this is one group that will surely go down to the wire.
Group D
The decision to replay the fixture between South Africa and Senegal in November has reignited the race for qualification in Group D. Burkina Faso and Cape Verde Islands, both on six points after four matches, currently occupy the top spots and will remain in control with wins over South Africa and Senegal respectively. But should the Lions of Teranga, who have a game in hand, pick up maximum points from their three remaining fixtures, they would follow in the footsteps of their predecessors who starred at Korea/Japan 2002. Their first challenge will be take three points away to the Cape Verdeans, who will be in confident mood following back-to-back victories over South Africa. Bafana Bafana are adrift at the foot of the table, having picked up only one point from three matches.
Group E
A win over Congo will be enough to send Egypt to Russia, should Uganda fail to beat Ghana the following day. For the Black Stars, who have appeared at the last three World Cups, qualification is no longer in their own hands. Even if they claim a victory away to the high-flying Cranes, the Ghanaians will have to rely on Egypt slipping up at home to a Congo side that has nothing left to play for. At this stage, it is hard to imagine the Pharaohs passing up the opportunity to return to the world's biggest stage following a 28-year absence.
Written by Autty

Who needs what to qualify for 2018 World Cup in Russia?
By Frank Keogh
England are there - and so are holders Germany - but a World Cup place for the other home nations hangs in the balance before the final group qualifying matches.
Wales can still win their group, Northern Ireland are guaranteed a top-two finish, and Scotland have the chance to finish second in their group, which may well seal a place in the play-offs for Russia 2018.
But coming second and staying in contention are not necessarily the same thing. More on that later.
Meanwhile, three-time runners up the Netherlands face a battle to go through, Argentina are in trouble and Syria are in a play-off to keep their unlikely World Cup dream alive.
Here, we analyse the scenarios to establish who needs what as qualifying reaches its climax. Bear with us - it's complicated, but worth it.
Who has qualified?
The tournament will consist of 32 teams, with hosts Russia joined by 31 qualifiers from around the globe.
The holders no longer qualify automatically, but Germany have progressed as group winners.
Nine other sides are guaranteed to be there: Brazil, Iran, Japan, Mexico, Belgium, Saudi Arabia, South Korea, Spain and England.
In Europe, the side that top each of the nine groups reaches the finals, while the best eight of nine runners-up go into November's play-offs.
What about UK's home nations?
Northern Ireland
Group C - Sunday: Norway (a) 19:45 (all times BST)
Despite two defeats against Germany, second-placed Northern Ireland have more points than some group leaders.
Seven clear of Czech Republic in third, they are guaranteed a top-two place as they look to reach their first World Cup since 1986.
A play-off place looks likely and will be sealed by a draw in Norway, or other results going their way.
Wales
Monday: Republic of Ireland (h) 19:45
"Don't take me home, please don't take me home," sang the fans as Wales marched to the semi-finals of Euro 2016.
Now they want to cheer them in a second World Cup, with their only previous finals appearance coming in 1958.
On Friday, Wales won in Georgia, but the Republic of Ireland also picked up three points to set up a huge meeting on Monday between the sides.
The winners in Cardiff will finish at least second, with a draw enough for Wales.
Leaders Serbia lost on Friday night to a last-minute Austria goal, meaning either Wales or the Republic could earn automatic qualification if Serbia slip up. It's all up for grabs.
Serbia host Georgia on Monday and require a win to be certain of reaching their second finals.
England
Group F - Sunday: Lithuania (a) 17:00
Unbeaten England, with seven wins and two draws, qualified automatically despite a lacklustre 1-0 victory over Slovenia on Thursday.
Manager Gareth Southgate will be hoping his side complete an unbeaten campaign when they travel to Lithuania in their final qualifying match.
Scotland
Group F - Sunday: Slovenia (a) 17:00
With only four points from their first four matches, few were rushing to back Scotland to reach Russia.
But victory over Slovenia, a draw with England and wins against Lithuania and Malta put them back in the hunt for a first World Cup appearance since 1998.
Scotland's destiny is now in their own hands after a late winner against Slovakia on Thursday lifted them into second in the group. Victory in Slovenia on Sunday could clinch a play-off spot, depending on other results.
The play-off puzzle
There's no easy way of explaining this, but here goes...
Eight of the nine European runners-up go into a two-legged play off for four places at next year's finals. That means the runner-up with the fewest points misses out. That unfortunate position is currently occupied by Bosnia-Herzegovina, although plenty can change over the coming days.
It is important to note that results against the bottom side in each group do not count in the final play-off standings.
The ranking of second-placed teams in the qualifying groups is determined by the highest number of points. If teams are equal on points, positions are decided by goal difference, goals scored, goals scored away from home and fair play points.
Fifa says teams will be seeded for the draw on 17 October, with the top four sides according to its rankings at the time in one pot and the remaining four in another.
The teams currently in second place are Portugal (third in rankings), Wales (13), Italy (17), Croatia (18), Northern Ireland (20), Sweden (23), Denmark (26), Bosnia-Herzegovina (36) and Scotland (43).
While there are clearly plenty of permutations, Northern Ireland and/or Wales could be seeded, meaning a play-off against Scotland or the Republic of Ireland is a possibility.
Wales or Scotland could join Northern Ireland in securing second place but each of those teams could still potentially be out of luck, as they can all still finish ninth in this table.
Rest of Europe - could the Netherlands miss out?
Europe's places: 14 including hosts Russia.
Already qualified: Belgium, Russia, Germany, England, Spain
They may be three-times World Cup runners-up but the Netherlands are in a scrap to reach next year's tournament.
The Dutch are in third place in Group A, behind France and Sweden, and will be out if they fail to at least match Sweden's result on Saturday.
Sweden host Luxembourg before travelling to the Netherlands, who first visit Belarus, in a potential decider on Tuesday.
Surprise Euro 2016 quarter-finalists Iceland, the smallest nation to qualify for a major tournament when they reached Euro 2016, are in pole position to win Group I after a fine win in Turkey on Friday night.
Portugal, while sure of at least making the play-offs, face a critical final match at home to Group B leaders Switzerland on Tuesday as they aim to make up a three-point deficit.
Road to Russia: The key dates
17 October: Europe play-off draw (Zurich)
9-11 November: Play-off first legs
12-14 November: Play-off second legs
1 December: Groups are drawn
14 June - 15 July 2018: World Cup
Asia - The Syria story
Asian places: 4 (plus a play-off place).
Already qualified: Iran, South Korea, Japan, Saudi Arabia
Now this is some tale.
Syria remain in contention for the World Cup despite the odds being stacked against a nation that is in the middle of a six-year war.
The team have no funding because of sanctions and play their home games in Malaysia, a 9,000-mile round trip.
But they made it through to a play-off against Australia, with Omar Al Somah's late penalty earning them a 1-1 first-leg draw on Thursday.
The return leg takes place in Sydney on Tuesday, 10 October (kick-off 10:00 BST).
The winner will face a Concacaf (North and Central America and the Caribbean) side in another two-legged tie the following month for a place at the World Cup.
South America - Argentina in trouble
South America places: 4 (plus a play-off place).
Already qualified: Brazil
Wednesday 00:30: Ecuador v Argentina, Brazil v Chile, Peru v Colombia, Uruguay v Bolivia, Paraguay v Venezuela
It seems almost inconceivable that Lionel Messi will not be at football's biggest tournament, but his Argentina side are in serious danger of missing out.
The two-time champions, who have not missed the World Cup since 1970, are out of the group qualifying spots after a 0-0 draw with Peru on Thursday.
Only the top four in South American qualifying are guaranteed a place in Russia, and Argentina are sixth with one game left.
Argentina must win their final qualifier in Ecuador to claim at least fifth spot, which sets up a two-leg play-off against New Zealand.
Beaten finalists at the 2014 World Cup, Argentina are level on both points (25) and goal difference (+1) with fifth-placed Peru, who are ahead on goals scored.
So tight is the group that four points separate Uruguay in second (28) and Paraguay (24) in seventh and a win for Argentina could see them qualify automatically.
However, they have drawn their past three qualifiers and their recent record in Ecuadorian capital Quito, which is 2,900m above sea level, is poor, losing two out of their past three and drawing the other. Ecuador have lost their previous five qualifying games.
Peru are hosting fourth-placed Colombia and should they draw, Argentina would be eliminated if they did not win.
Chile, who are third, go to already-qualified Brazil, while Uruguay, who are all-but assured of their place in Russia because of their vastly superior goal difference, need just a draw at home to already-eliminated Bolivia to guarantee qualification.
Concacaf - Who will join Mexico?
North America, Central America and Caribbean places: 3 (plus a play-off place).
Already qualified: Mexico.
Mexico will compete at their seventh straight World Cup next summer, with Costa Rica on the verge of direct qualification from the Concacaf section.
But a third automatic berth is still up for grabs, while the fourth-placed side can also qualify through the inter-continental play-offs.
On Friday night, USA beat surprise package Panama 4-0 to move into third and within touching distance of automatic qualification.
They travel to bottom of the table Trinidad and Tobago on Wednesday knowing victory will seal their spot.
Panama now look destined for a play-off match against either Syria or Australia to land a World Cup place for the first time in their history.
But Honduras, whose match in Costa Rica was put back a day because of adverse weather, also remain in the mix.
Africa - Nigeria on track
African places: 5.
Already qualified: Nigeria
Nigeria have made it a worthy campaign to launch their sixth World Cup appearance, while Egypt - led by Liverpool's Mohamed Salah - are on course for their first since 1990, but Africa Cup of Nations champions Cameroon are out of the running.
Currently there are no play-offs in Africa, with the team that top each of the five qualifying groups going through. Tunisia, Ivory Coast and Burkina Faso are the other current group leaders.
Oceania - New Zealand await opponents
Oceania places: One play-off place.
Already qualified: None
New Zealand beat the Solomon Islands over two legs (as winners of their respective groups) to book their place in the inter-continental play-offs, and will take on the fifth-placed team from South American qualifying in November

#WorldCup line-up so far:
🇷🇺Russia
🇧🇷Brazil
🇮🇷Iran
🇯🇵Japan
🇲🇽Mexico
🇧🇪Belgium
🇰🇷Korea Rep.
🇸🇦S. Arabia
🇩🇪Germany
🦁England
🇪🇸Spain
🇳🇬NigeriaSource: All Football (App)

An